Ambush in the Night is Very Powerful and Direct Bob Marley' Lyrics That Speak Directly to the Attack on Marley's Life at 56 Hope Road in December of 1976.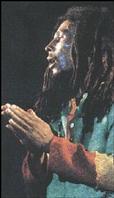 Bob Marley's song Ambush in the Night
Ambush in the Night
They say what we know is just what they teach us
And we're so ignorant' cause every time they can't reach us
Through political strategy they keep us hungry
And when we get some food
Your brother got to be your enemy
Very powerful and direct Bob Marley's lyrics that speak directly to the attack on Marley's life at 56 Hope road in December of 1976. Gunmen reportedly entered the house after which they fired shots at Rita (Bob's wife), Don Taylor, Lewis Griffith and Bob himself.
The song comments on the "pork barrel politics" of Jamaican politics at the time. Youth were being divided among stringent political lines in order to fight a war that politicians themselves would not get directly involved in although they were the ones giving the orders.
Bob equates the attack on his life by his would be assassins as an attack on the moral and social fabric of Jamaican society. The song is written in a story telling tone as are much of his other songs, giving real insight into the political and economic turmoil that rocked Jamaica in the 70's and 80's.




Back to Bob Marley's Songs

Return from Ambush in the Night to Home of Rasta Man Vibration