Reggae Sunsplash:Bob Marley Energized the Crowd with Songs From his Forthcoming Survival LP.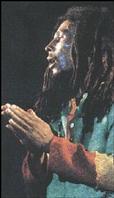 Reggae Sunsplash
Bob Marley promised the organizers of Reggae Sunsplash that he would headline the show at Montego Bay. His first Jamaica since the One Love Peace Concert, Marley energized the crowd with songs from show in the forthcoming Survival LP.
It was a reasoning at 56 Hope Road between Bob, Family Man and the event's promoters that had spawned the first Sunsplash in 1978, now known as Reggae Sumfest.


Marley had missed the inaugural event because he was away on the Kaya world tour. This time, Bob was determined to play at Reggae Sunsplash II to give the festival a boost. With reggae gaining an international voice and representation, Bob had made a conscious decision to play at Reggae Sunsplash II to help the event become a recognized happening on the entertainment scene. Bob's philanthropic thinking has certainly paid off; today Reggae Sumfest attracts crowds, old and young, from all across the globe who eternally cultivate the love for reggae in their own homelands.



Back to Bob Marley Festivals,Tours,Performances


Return from Bob Marley Reggae Sunsplash to Home of Rasta Man Vibration