Bob Marley Smile Jamaica Concert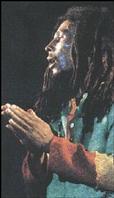 Bob Marley Smile Jamaica Concert
No more than 2 days after a brutal shooting attempt on his life, Bob Marley took the stage at National Heroes Park,Jamaica on December 5, 1976 for the Smile Jamaica Concert.
There had always been political overtones about the Smile Jamaica concert, scheduled for 5 December 1976 at Kingston's National Heroes Park. At first Chris Blackwell had advised against the show, which had originally been scheduled to take place in the grounds of the Jamaica House: what Bob told him about the proposed show suggested it was to be billed as a PNP event.
After much pressure from Anthony Spaulding then Minister of Housing,Jamaica, Bob decided to go ahead with the performance as a symbol of peace and unity. In a defiant move he took the stage and gave a performance that no one would forget. He utilized his body and deeply spiritual mood to convey his deepest emotions to the crowd that was present, all the time under the watchful gaze of some of the cities most well known gunmen.
After this concert Marley went off on a self imposed exile that saw him traveling to Bermuda, the United States and the United Kingdom.

Back to Bob Marley Festivals

Return from Bob Marley Smile Jamaica Concert to Home of Rasta Man Vibration