Bob Marley's Song One Love Uses this Rasta Greeting and Turned it Into an International Anthem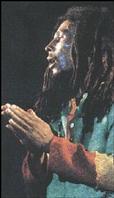 Bob Marley's Song One Love
One Love

One Love
Let them pass their dirty remarks (One love)
There is only one question I'd really love to ask (One heart)
Is there a place for the hopeless sinner
Who has hurt all mankind just to save his own?
Believe me
One love
What about the one heart?
One heart
What about…
Let's get together and feel alright ….

Deeply based in the technique of moral persuasion this Rasta greeting turned international anthem, has the ability with it's feel good tune to fool the listener that Bob is somehow less revolutionary in his call for 'One love'. This is what has maybe led to the over use of the song in many of Jamaica's tourist board advertisements telling assuring prospective visitors 'to come to Jamaica and feel alright'.
As Marley asks what about the hopeless sinner who in the spirit of greed and dominance has step over and on mankind just to secure the future of his own? Such was the lyrical genius of Marley that he was able to pen lyrics that could be so easily internationally loved and renowned without appearing to be promoting revolution, rebellion and resistance.


Bob Marley's song One Love Sound Track


Click on the links below for more Bob Marley's Song



Bob Marley's Song Ambush In The Night

Bob Marley's Song Bad Card

Bob Marley's Song Buffalo Soldier

Bob Marley's Song Concrete Jungle

Bob Marley's Song Exodus

Bob Marley's Song Get Up Stand Up

Bob Marley's Song I Shot The Sheriff

Bob Marley's Song Jah Live

Bob Marley's Song No Woman No Cry

Bob Marley's Song Rasta Man Chant

Bob Marley's Song Rat Race

Bob Marley's Song Redemption Song

Bob Marley's Song Stir It Up

Bob Marley's Song Who The Cap Fit

Bob Marley's Song Zimbabwe

Bob Marley's Song Africa Unite

Bob Marley's Song Chant Down Babylon


Return from Bob Marley's One Love to Home of Rasta Man Vibration