Reggae Music Make We Chant Down Babylon!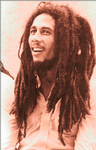 Bob Marley's song Chant Down Babylon
Chant Down Babylon
Come we burn down Babylon one more time
Come we go chant down Babylon one more time
For them soft. Yes them soft
Them soft. Yes them soft
So come we go chant down Babylon one more time
Men see their dreams and aspirations
Crumble in front of their face
And all of their wicked intentions to destroy the human race
How I know and how I know
And that's how I know
A reggae music make we chant down Babylon


This song comes from the Confrontation album that was released after Bob Marley's death.
Chant down Babylon attests to the power that Bob Marley's music had in the way of acting as a catalyst for social change and awareness.
What is Babylon?
Babylon here has a two fold meaning.
On one hand Babylon refers to the biblical meaning of a place or person that is corrupt and must hence be destroyed.
In the other figurative sense it speaks to the state or Anglo/American imperial forces that act as oppressive regimes by executing their personal agendas based on race, greed, power and social control.
The term Babylon features throughout many of his other songs, for instance he speaks of the inescapable implosion of the system of brutality, dysfunctional systems of education, religion and politics in Rasta Man Chant, Crazy Baldheads, Exodus Movement of Jah people and Babylon system.


We refuse to be What you wanted us to be.
We are what we are
That's the way it's going to be,
You can't educate I
For no equal opportunity
Talking about my freedom
People freedom and liberty
Yeah we've been trodding on
The winepress much too long
Rebel, rebel.


See other Bob Marley most powerful and popular Songs below

Bob Marley's song Ambush In the Night

Bob Marley's song Bad Card

Bob Marley's song Buffalo Soldier

Bob Marley's song Concrete Jungle

Bob Marley's song Exodus

Bob Marley's song Get Up Stand Up

Bob Marley's song I Shot the Sheriff

Bob Marley's songJah Live

Bob Marley's song No Woman No Cry

Bob Marley's song One Love

Bob Marley's song Rasta Man Chant

Bob Marley's song Rat Race

Bob Marley's song Redemption Song

Bob Marley's song Stir It Up

Bob Marley's song Who the Cap Fit

Bob Marley's song Zimbabwe

Bob Marley's song Babylon

Bob Marley's song Africa Unite



Return from Chant Down Babylon to Home of Rasta Man Vibration