Rat Race is Very Deep Hard Hitting Lyrics from Bob Marley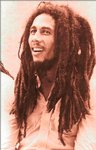 Bob Marley's song Rat Race
Rat Race

I'm singing that when the cat's away
The mice will play
Political violence fill your city. Yeah!
Don't involve Rasta in your say say
Rasta don't work for no C.I.A .
Rat race, rat race, rat race, yeah, rat race.


I'm saying when you think it's peace and safety
A sudden destruction
Collective security for surety. Yeah!
Don't forget your history. Know your destiny
In the abundance of water the fool is thirsty
Rat race, rat race, rat race, rat race.
Oh it's a disgrace to see the human race
In a rat race, rat race.


Very deep and hard hitting lyrics from Bob Marley at a time when Jamaica's political scene was one filled with uncertainty, chaos and blood letting violence.
The United States Central Intelligence Agency,CIA, was rumored to have aligned themselves to one of Jamaica's political parties in an attempt to cut down what were seen as Communist elements operating within and aspiring to run the country. Marley constantly criticized this involvement and was said to have placed Bob Marley on the CIA black list for his very critical lyrics.
Bob Marley's use of proverbs and Jamaican folklore is displayed yet again in Rat Race 'when the cats away the mice will play', 'in abundance of water the fool is thirsty'. Here Marley with his ageless wisdom advocates a kind of xenophobia when it comes to foreign interference in domestic affairs that is most times driven by a hidden agenda.


Bob Marley's song Rat Race Sound Track


See more Bob Marley song lyrics



Bob Marley's song Ambush In the Night

Bob Marley's song Bad Card

Bob Marley's song Buffalo Soldier

Bob Marley's song Concrete Jungle

Bob Marley's song Exodus

Bob Marley's song Get Up Stand Up

Bob Marley's song I Shot the Sheriff

Bob Marley's song Jah Live

Bob Marley's song No Woman No Cry

Bob Marley's song One Love

Bob Marley's song Rasta Man Chant

Bob Marley's song Redemption Song

Bob Marley's song Stir It Up

Bob Marley's song Who the Cap Fit

Bob Marley's song Zimbabwe

Bob Marley's song Africa Unite

Bob Marley's song Chant Down Babylon


Return from bob Marley's Rat Race to Home of Rasta Man Vibration