Bob Marley's Song Get Up Stand Up is a Rallying Cry for Oppressed People to Fight Back.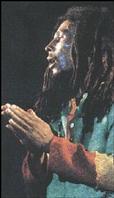 Bob Marley's song Get Up Stand Up
Get Up Stand Up
Most people think great God will come from the sky
Take away everything and make everybody feel high
But if you know what life is worth
You would look for yours on earth
And now you see the light
You stand up for your right
….
We're sick and tired of your ism schism game
Die and go to heaven in Jesus' name
Lord, we know when we understand
Almighty God is a living man
You can fool some people sometimes
But you can't fool some people all the time
So now we see the light
(What you gonna do?)
We gonna stand up for our right.
Jah, Jah, Jah …


Get up Stand up, co-written by Peter Tosh, demonstrates an anti-imperialist, strident and militant tone, that acts as the rallying cry for oppressed people to fight back and in the spirit of Marcus Garvey's self- reliance philosophy do something about their own situation.
The use of religion as a tool of mental enslavement is also highlighted in the songs lyrics of Bob Marley.
It is believed by many historians that in conquering Africa and the Americas, colonial oppressors' use of religion and the doctrine of obedience deeply embedded in it assisted to a great extent in subduing rebellions. At the same time natural and human resources were being robbed and profits expatriated to European countries.
Although this Bob Marley song was first released on the Burnin' album it was a performance given by Bob at the Lyceum in England that made the song an international anthem.

Bob Marley's song Get Up Stand Up


See other Bob Marley's Most Powerful and Popular Songs

Bob Marley's song Ambush in the Night

Bob Marley's song Bad Card

Bob Marley's song Buffalo Soldier

Bob Marley's song Concrete Jungle

Bob Marley's song Exodus

Bob Marley's song Get Up Stand Up

Bob Marley's song I Shot the Sheriff

Bob Marley's song Jah Live

Bob Marley's song No Woman No Cry

Bob Marley's song One Love

Bob Marley's song Rasta Man Chant

Bob Marley's song Rat Race

Bob Marley's song Redemption Song

Bob Marley's song Stir It Up

Bob Marley's song Zimbabwe

Bob Marley's song Who the Cap FIT

Bob Marley's song Africa Unite

Bob Marley's song Chant Down Babylon


Return from Get Up Stand Up to Home Of Rasta Man Vibration