Concrete Jungle: No Chains Around My Feet But I'm Not Free!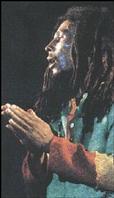 Bob Marley's song Concrete Jungle
Concrete Jungle
<


No chains around my feet but I'm not free
I know I am bound here in captivity. Yeah now
And I've never known what happiness is. Yeah
And I've never known what a sweet caress is
Still I'll be always laughing like a clown
Won't someone help me?



This Bob Marley hit song exposes that darker side of life for ghetto youths in Jamaica residing in the Bob Marley's "concrete jungles" of Kingston's innercity areas.
Bob himself had been exposed to this side of life residing in Trench Town's tenement yards form an early age and being very observant of his environment and the various issues that affected the residents.
Again Marley's use of metaphors such as "no sun will shine in my day today" reveals in a very literal way the side of Jamaica that is not exposed to the luxuries of the island so eloquently marketed to tourist who are encouraged to visit the more aesthetic and appealing fantasy land of the North Coast of the Island.
The opening track for the album Catch a Fire, this song introduced the music of Bob Marley and the Wailers to a global audience that "digged" the message no matter how far off it might have been from their own personal realities. Such was the power of Bob Marley's music.


Bob Marley's song Concrete Jungle
See Other Bob Marley Hit songs below


Bob Marley's song Ambush In the Night

Bob Marley's song Bad Card

Bob Marley's song Buffalo Soldier

Bob Marley's song Concrete Jungle

Bob Marley's song Exodus

Bob Marley's song Get Up Stand Up

Bob Marley's song I Shot the Sheriff

Bob Marley's song Jah Live

Bob Marley's song No Woman No Cry

Bob Marley's song One Love

Bob Marley's song Rasta Man Chant

Bob Marley's song Rat Race

Bob Marley's song Redemption Song

Bob Marley's song Stir It Up

Bob Marley's song Who the Cap Fit

Bob Marley's song Zimbabwe

Bob Marley's song Africa Unite

Bob Marley's song Chant Down Babylon


Return from Concrete Jungle to Home of Rasta Man Vibration